Certification in Sports Nutrition (CSN)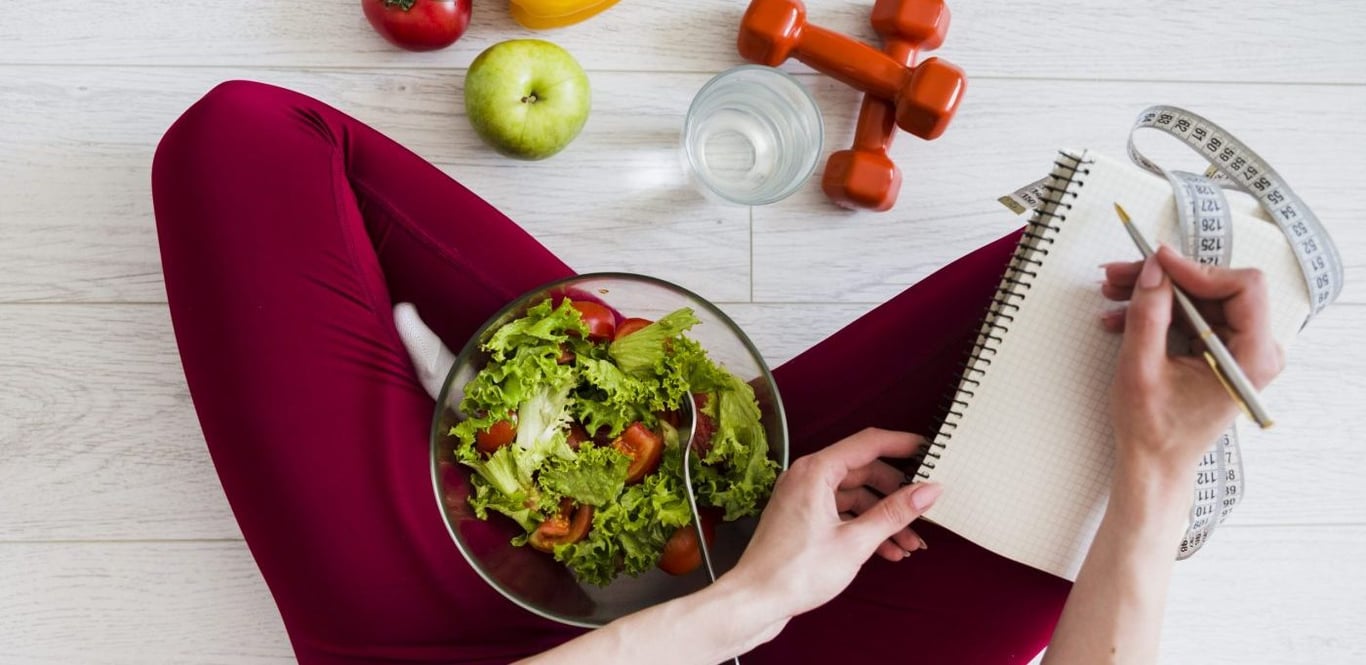 About Course
Overview of Certification in Sports Nutrition Course:
Nutrition is the backbone of any workout plan. In fact, one can lose excessive fat and feel strong by simply following a customised diet plan. Nutrition in Sports is a well-designed plan that allows active adults, bodybuilders and athletes to perform at their best. Many questions weigh on your mind for example:
Is it important to not eat carbohydrates to lose weight?

Is supplementation necessary to enhance performance of a sports person?

Is ketogenic diet healthy and effective?

Can eating extra protein build muscles?

Is it true that eating several small meals in a day speed up losing fat?

Are egg yolks bad for us?

Is Coconut oil the healthiest oil?

Does Fat-free yogurt contain heavy amount of sugar?

Do we get high proteins in only non-vegetarian food products?

Is different nutrition followed in variety of sports?
Nutrition is a broader term and a never-ending education. One has to keep on researching about different food products so that being a Sports Nutritionist in India you can recommend the right nutrition depending upon the history and assessment of an active individual, sedentary person or athletes.
Join Our Sports Nutrition Certification Course in Delhi program and Become Certified Nutritionist in India.

Benefits of Sports Nutrition Certification Course in Delhi:
---
If you obtain a Certification in Sports Nutrition from Fitness Cravers Academy, you will be referred to as an Educated person who has sufficient knowledge of Balanced nutrition, Body metabolism, Carbohydrates, Fats, Proteins, Vitamins, Minerals, Hydration and Electrolytes related to exercises. You gain an understanding of body's energy system used during exercise or at rest along with Nutritional & performance Supplementation. Studying Ketogenic & Paleo Diet, macronutrients in common foods and beverages and preparation of diet as per the goals of the Client will definitely make you unique in the present market. Moreover, one gets opportunities to prescribe diet plan to many active sportspersons, athletes and bodybuilders.
Just like a paracetamol tablet is not suitable to all bodies and a doctor has to change the medicine if one's body system is allergic to it, similarly a Sports Nutritionist has to prescribe the diet depending upon the suitability of the client's body system. It has to be modified if so needed.
If you acquire knowledge of Nutrition along with exercise, it will provide your clients with maximum results. Exercise without a good nutrition is like swimming against the tide or running after a mirage in a desert meaning it will never let you reach your goal.
You Can Also Join Our Master Personal Trainer Certification Course OR MPT program. If You Apply for MPT Course, You will also get Certificate of LEVEL 5 (CPT) Certification in Personal Training from Fitness Cravers Academy. Get To Know More About This and Become Certified Master Personal Trainer in India.
Enroll in Master Personal Trainer Certification Course along with CSN(Certification in Sports Nutrition) Course. To Know Discounted Price, Click Here To Chat on Whatsapp
USP of Certification in Sports Nutrition (CSN) Program:
---
If you decide to be a part of Fitness Cravers Academy and Join our Certification in Sports Nutrition (CSN) course, you will have the following benefits: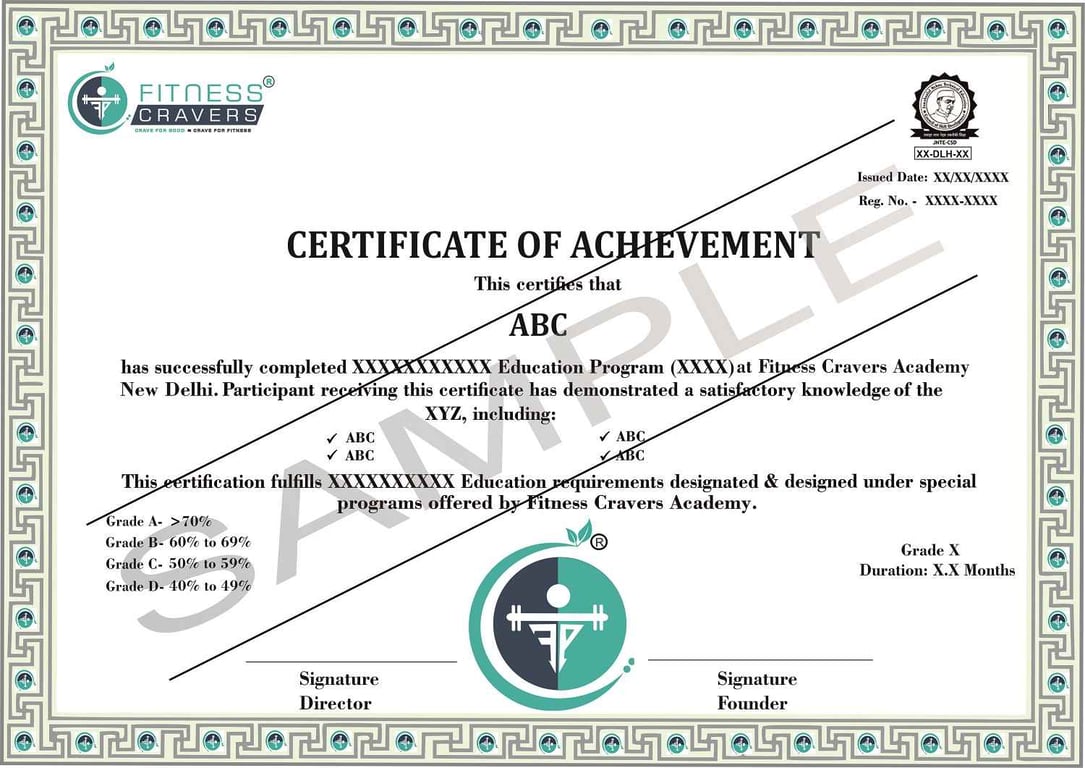 Access to the Theory sessions in our Academy for 1 year after the successful completion of the course.
Student Online Job Portal.
Study Material.
Theory Batch of not more than 20 Students in order to provide Quality Education and Revision.
23 Theories of 2 hours each.
Free Updation Classes every 6 months in order to keep FCA student updated with Recent Advances in Food Industry.
Flexible Fee Payment Options without any Interest including Education Loan Facility.
100% Job Placement Assistance from FCA.
Discounted 3 Months membership of Rhinos Gym Malviya Nagar specially for FCA Students (ON Request).
Career Opportunities with FCA Programs:
---
FCA aim at placing and has placed all of its students in different Physical Fitness & Education Sectors i.e.
Luxurious Hotels

Cruise Ships

Branded Gymnasiums

Wellness Centers

Schools and Universities

Hospitals

Social and Government Organizations

Various Teaching Institutions including FCA as a Lecturer

Home Visits (on students' request) or Freelancing Opportunities.
Placement Assistance in Different Sectors:
---
FCA Academy has a dedicated job portal facility for registered student of CSN (Certification in Sports Nutrition) Course. Once you become FCA Certified, it is our responsibility to keep a track on your career in relation to the jobs we can provide you with.
We have a Guaranteed service of providing jobs for at least a full year but FCA stays in touch with its Certified students even after a year in order to provide them with the placements just in case they are not working!
Salary Packages Overview:
---
Prove yourself Efficient and Watch out a Growth in your Salary Packages!
There are Sports Nutritionist working at a minimum salary of Rs.11,000/- to Rs 16,000/- per month but there is an addition of an income when you make home visits and keep a track of the clients health".
Sports Nutritionist earn between Rs.50,000/- to Rs. 2,50,000 per month depending upon one's passion for this industry.
Key to Salary Growth:
A Prior Experience or Additional Credentials can easily boost a higher pay.

The amount of Time and Dedication that you put into your profession plays an important role in the earnings.

Skills and Knowledge of your Profession lead to increment in salaries very Fast.

The Certification from a Recognised Institute will definitely help in increasing the income potential. Remember, there are no high-profile gyms that employ non-certified staff.
Examination & Certification:
---
Examination Procedure:
Online & Offline Examination

Marking of assignment submission and academic conduct
Certificates you will get:
Certification in Sports Nutrition by Fitness Cravers Academy
Batch Schedule:
---
Weekday Batch:(2 months)
Theory classes-                 23 for 2 hours each (46 hours in total)
(Monday/Tuesday/Wednesday)   – 10:30 am to 12:30 pm or 1:00 pm to 3:00 pm
Weekend Batch: (3 months)
Theory classes-                 23 classes for 2 hours each (46 hours in total)
(Saturday & Sunday)  –  10:30 am to 12:30 pm or 1:00 pm to 3:00 pm
Note (*): Course duration will differ depending upon the nature of batch (weekday or weekend)
Quick Overview
---
After successful completion of the course, the students will get:
(i)  Certification in Sports Nutrition by Fitness Cravers Academy, which is a Training Partner with "Skill India", Sports, Physical Education, Fitness and Leisure Skills Council (SPEFL-SC). SPEFL-SC is an autonomous industry led body, promoted by Ministry of Skill Development and Entrepreneurship (MSDE), National Skill Development Corporation (NSDC).
(ii) Fitness Cravers Academy is also An Accredited Training Centre of National Skill Development Corporation (NSDC) .
Join Now & Complete Your Certification Program. Grab the Job Opportunities in Fitness Cravers Academy: Apply Now for Sports nutrition Course
About the instructor
Course Curriculum
Theory
Introduction to Key terms related to Nutrition

Cell Structure & Hormone

Hormones in Details

Introduction to Macro Nutrients

Introduction to Protein

Introduction to Fats

Macro Calculation

Vitamins & Minerals

Water, Fluid, Electrolytes

Types of Energy Systems

Carbohydrates & Protein Supplementation

Supplementation

Diet Planning

Cons and Ethics of Steroids.

Cooking Tips.
Student Ratings & Reviews
No Review Yet